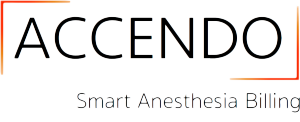 A
CCENDO is a software
specifically designed for Anesthesia billing
from the day it was conceived. Anesthesia billing has its unique and challenging requirements above and beyond general medical billing and ACCENDO has proven to excel at meeting those requirements. Anesthesia is and will remain our only focus. This sets us apart from other billing software that are just generic medical billing software and not at all specialized for anesthesia.
A
CCENDO is designed by a small team of experts that each of us has years of experience in both Information Technology and Medical/anesthesia Billing.
Every feature of ACCENDO comes from our own needs as anesthesia billers
so ACCENDO is extremely user focused. How to make your day to day billing operation simple, productive and successful is our number one priority.
L
IKE many of our anesthesia providers and billing agency clients, we are also a small business.
We share the same values as you
. We are much more agile and motivated to make ACCENDO work for you. We strive to provide you with the most personable and accessible service.

Y
OU do not have to commit to ACCENDO until you are completely satisfied by what ACCENDO can do for you. We setup a customized ACCENDO system with all of your data so
you can spend time and become comfortable with ACCENDO before you decide to switch. You pay nothing to get started and your monthly fee will be tailored to your needs and very economical
.
To help you decide whether you should invest in the time looking into what ACCENDO has to offer, take a look at the questions below and see whether your current anesthesia billing software can


Automatically calculate your anesthesia charges and expected pay based on your surgery or anesthesia code, time and modifier?
Allow you to work seamlessly among multiple groups/TINs and you do not need to login to another session just to work on a bill for a different group?
Allow you to precisely manage when you bills go out without missing the timely filing deadline?
Automatically highlight the claims that are overdue or based on other criteria that you set and alert you to work on them?
Include Document Management so that all of the paper documents related to a claim are stored online with the claim so you can easily refer to them?
Have extensive set of features for data entry automation, Claim and EOB data validation and support for workflow?
Accessible from anywhere using a browser on desktops, laptops and mobile devices while you data is safely and securely stored in the cloud?
If you answer "no" to any of the questions, please contact us and we will set up a free and no obligation customized ACCENDO demo for you. You can check out ACCENDO at your own pace to see how ACCENDO can make your anesthesia billing more productive and successful.
Paper or Electronic/EDI billing based on your insurance payer and your preference
Precisely manage when bills go out delayed batching bills to go out as you specified per Insurance company and you can have multiple levels of delay. This feature also make sure you do not miss timely filling deadline
Today's Action Items highlight the claims that are overdue or to remind you claims need attention or follow-up in real time
Smart Trace automatically keep a log of every change made to a claim together with notes you entered so you can easily trace the logs and see all things that happened to this claim
Patient Correspondence/Mail Merge use Microsoft Word Mail Merge template and merge with data from ACCENDO to automatically generate rich format letters to patient or insurance
Teamwork features allow one biller to assign a claim to another to work on or assign a claim to self as a reminder
Document management store and access all patient or claim documents from the cloud while working on a claim
Claim Inquiry comprehensive search criteria and the resulting claims list allow you to work on claims online as oppose to have to print a list of claims and work by printed report
Access ACCENDO from anywhere all you need is a browser and no need to install any software on your device
Automated collection and appeal generation automatically prepare the documents for your collection and appeal
Automated anesthesia crosswalk and calculation of charge and expected pay based on data you entered from your Anesthesia Records and Face Sheet
Automated patient statement can be configured to generate patient statements on intervals per your configuration
Real Time Data Validation checks and validates as you enter your data to make sure they are correct, instead of scrubbing claim data at submission
Multiple providers support you can seamlessly work with all your groups/TINs that you bill from in the same ACCENDO session
Provider access read only access by providers so they stay engaged in the billing process
Secondary insurance billing
Fully integrated with Clearinghouse to batch EDI bills and automated posting of ERA/payments
Many More ...




ACCENDO is an Internet cloud based medical billing system designed specifically for anesthesia billing by the EBS, LLC team. We are dedicated professionals with many years of experiences and backgrounds in Information Technology and Medical Billing for anesthesia. We have been using ACCENDO in-house for several years now in our anesthesia billing service to anesthesia providers. We are now marketing ACCENDO so you can also have this competitive advantage.
If you want to let us take care of the billing business for you, we have a billing team with years of experience in anesthesia billing. We go the extra mile to get you paid faster and more. Instead of using an off-the-shelf software as others do, we developed our very own ACCENDO Billing System to meet our demanding requirements that no other software we have tried can meet. You benefit from this competitive advantage in technology that is designed to maximize collection for you.

We have the latest information on anesthesia billing and the service of a board certified anesthesiologist on consultation to make sure we do not miss anything that could increase revenue. Our billing service includes in or out of network, paper and electronic billing, rebill, secondary billing, appeals and everything else needed to get you paid for your hard work
I have found the process of entering the claim is so much easier and quicker than previous programs I have used in the past.
I would recommend ACCENDO to anyone in the medical field working with anesthesia.  ACCENDO is making my work life easier and enjoyable.
Take an hour of your time and check out ACCENDO. You have nothing to lose and everything to gain if you find ACCENDO meets your needs. I did and never looked back.